The Loveland Frog, AKA Loveland Lizard Man, is a strange creature roaming around Loveland,Ohio.
In 1972, a police officer reported that he saw a strange creature while driving near the Riverside Road. It was described as a bipedal frog like creature with slimy skin and large eyes.A few sightings later took on.There is no physical evidence to suggest the Loveland frog is real or not.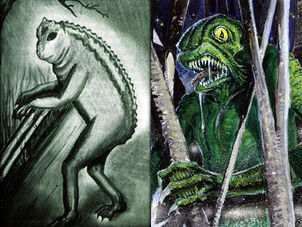 Ad blocker interference detected!
Wikia is a free-to-use site that makes money from advertising. We have a modified experience for viewers using ad blockers

Wikia is not accessible if you've made further modifications. Remove the custom ad blocker rule(s) and the page will load as expected.